Attention patients & providers:
Please allow additional time for us to process orders and results for SIBO tests while we are temporarily working with limited staff and limited hours in the lab for the next several weeks due to the concerns related to COVID-19. Our staff will continue to work diligently to process orders and test results, though please be aware there may be delays in shipping kits and receiving results during this time.
We will still be working remotely when not in the lab, and available to respond to emails and voicemails. Please contact us with any questions. We appreciate your patience and understanding during this time!
Attention patients:
If you do not have symptoms of COVID-19 and have not been diagnosed with COVID-19, you may send in your completed SIBO test for analysis.
If you have symptoms of COVID-19 and/or have tested positive or are suspected positive for the novel coronavirus that causes COVID-19:
Please do not take the test and do not mail your kit back to us at this time.
If you have already mailed your kit to us, please notify us by calling 503-552-1931 as soon as possible.
Please contact us and/or your provider to discuss options for you to take the test at a later date. Each kit has an expiration date on the outside of the box.
With appreciation and best wishes, the NUNM SIBO Center team.
---
Check out the newest video from Dr. Steven Sandberg-Lewis on interpreting SIBO Breath Test results!
The SIBO (small intestinal bacterial overgrowth) Center includes the NUNM SIBO Lab and teams of NUNM physicians, acupuncturists and students who support patients and their individual needs by utilizing natural medicine techniques most appropriate for each patient. The NUNM SIBO Center was co-founded in 2013 by Dr. Steven Sandberg-Lewis and Dr. Allison Siebecker. The center's mission is to educate and treat patients with SIBO and other gastrointestinal disorders.
The NUNM SIBO lab also plays a pivotal role in the SIBO Center as it offers analysis and results for the SIBO Breath Test for providers throughout the United States. Through collaboration with some of the top SIBO doctors in the country, the SIBO lab has developed a respect and understanding of SIBO and strives to offer information in the most beneficial way possible to both patients and physicians while utilizing the highest standards of quality assurance.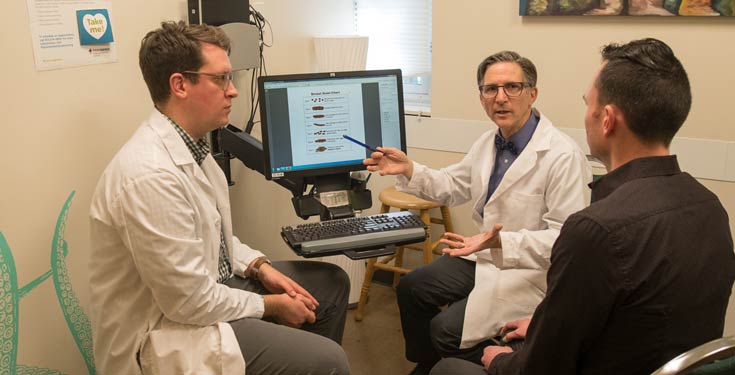 Research Spotlight
NUNM SIBO Center's Dr. Steven Sandberg-Lewis is leading the way in SIBO research. Learn more…
Get info on the SIBO Symposium and view past recordings.